"What a silly tank engine! thinking he can beat a fast, hot rod, streamlined engine like me"
— Connor referring to Bill, Bill or Ben?, seventeenth season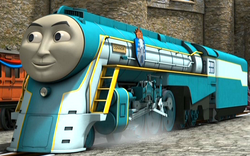 Connor
Connor is a character that was introduced in the 2013 special, King of the Railway.
Bio
Connor is a streamlined engine from the Mainland, designed for speed. He is excitable and energetic and, like Caitlin, loves to race the other engines. Connor, however, is better able to be patient unlike Caitlin. Although it is probably unintentional, he can come across as being somewhat smug. Both Caitlin and Connor run regularly between the Mainland and Ulfstead Castle via the Vicarstown Bridge. He has his own coaches.
He was once tricked by Bill & Ben when they challenged him to a race.
Basis
Connor is based on the New York Central Railroad's Hudsons.
Livery
Connor is painted teal with light blue and yellow lining.
Voice Actors
Merchandise