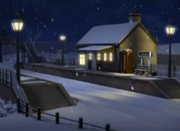 Dryaw is a station and village near Thomas' Branch Line. The village began as a worker village for the staff of A. W. Dry, a company working on reclaiming tidal land from the sea. Gradually, a village grew up around the workers' homes, expanding as more land was drained and cultivated.
Dryaw has two stations: one for passengers and one for goods, the latter of which was built first. The two lines of track go though Dryaw Station. The goods station is, ironically, in the middle of the village and better equipped than the passenger station, which is simply an unstaffed halt some distance from the village. The villagers of Dryaw, however, often save themselves the walk to the passenger station by hitching a ride in the brakevans of goods trains headed to Ffarquhar or Knapford Harbour, particularly on market days. There is a small airfield here for lightweight aircraft.
The name is an anagram of "Awdry" - the real back-story to the name - but, in the books, however, it possibly could come from the firm A. W. Dry, or the phrase "dry out", the site of the village being one of the first sections of land to be reclaimed from the sea by the company.
Dryaw appeared in almost every season until the switch to CGI. It returned in the seventeenth season. Thomas and Friends: The CGI Series